Aug 19, 2020 12:23 PM Central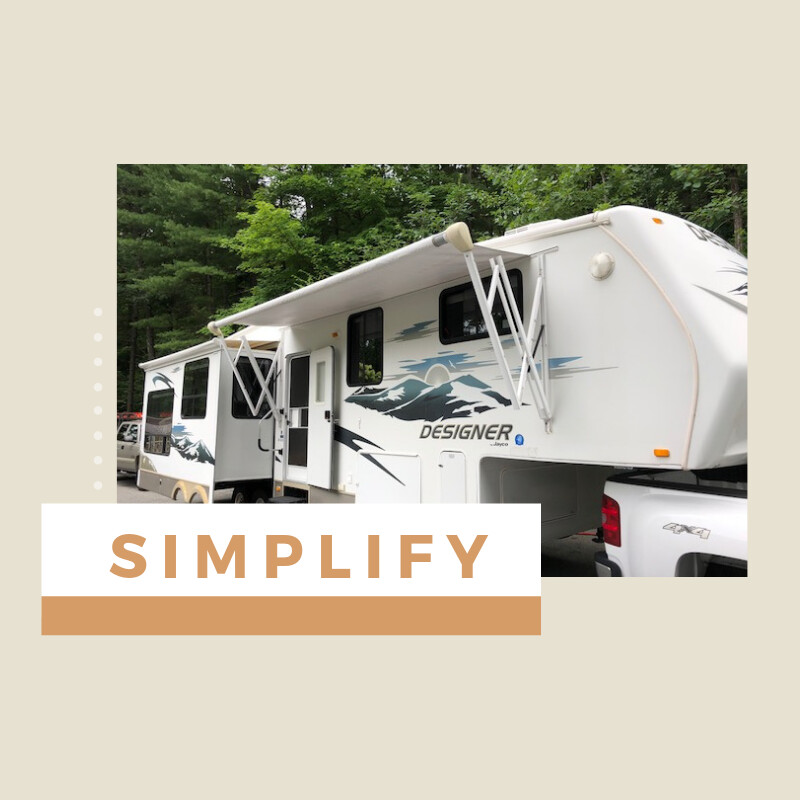 If you wait around for conditions to be perfect, life will pass you by.
I felt life was passing me by. I had an urgency to do something different. I had no idea what that was or how to go about it, I just knew I HAD TO DO SOMETHING!
So my husband and I just sold everything we own and bought a fifth wheel to live in. That seems radical and, it sort of is
but it did not happen all at once.
It all began in 2014 when the word "SIMPLIFY" kept appearing in my mind and in my face.
Literally everywhere I went there was some sort of message to simplify.
SO ,the process began. One downsize after another until we ended up in a fifth wheel about 1 year ago.
Some downsizing was due to circumstance and some by choice.
Many ask if I miss my stuff- NO! Not at all. I feel so free not to have to manage all that stuff that was just weighing me down. Of course I didn't realize the weight of it until it was all gone. So now what?
Now ,we manage less stuff and can have more fun.
Our time is spent building and serving community in the space we occupy .
Just simply engage in life more ,rather it be riding bikes, attending concerts, farmers markets, local events, or traveling some.
If we want a beach house or a lake house or a mountain home, we have it. Just pick up and move. The beauty is we can now go where we want and not have to stay permanently.
We decided to just dive in and start our dream. Give ourselves space to be able to live our dream of a simpler life.
Living in a small space is definitely a learning experience but I know it will be worth it.
So… if you feel that your dream is up on a shelf, I encourage you to take a leap of faith! You will learn much more by diving in and making mistakes than you will by playing it safe.
Also a bottle of " Dream Catcher" essential oil may benefit you greatly.
Aug 19, 2020 11:52 AM Central
We recently sold everything we own and bought a fifth wheel to live in full time. We found ourselves feeling unsatisfied with status quo and desired a simpler way of living.
I get a lot of questions about how we sold EVERYTHING!
Well, it was no simple task and I am sure others have done the same in a much more efficient way but we got the job done and we got it done fast. Here is what I did.
I first started selling all the things I rarely used or simply did not want any longer online a few months prior to the actual move. I used FB marketplace for this part.
I sold all sorts of items from entertaining glassware to a flat iron. People love a good deal!
If you are thinking of downsizing in the future I suggest you start doing this part now.
Then, I placed an ad in the newspaper. Yes it is still a popular way to advertise in the small upper NE state we lived in. I also utilized all modalities available on Face Book. FB Marketplace is my favorite.
We had a three day moving sale /living estate sale.
Since we would be living in our fifth wheel, we needed very little. We put all the items we wanted to keep in one room of our house and closed the door.
We priced everything else, opened the doors and just rolled with it. IT WAS CRAZY!
We sold a majority of our items at this sale. There were some items left in the house that we decided to sell once we got an offer on our house.
Two months later we went at it again. This time I relied solely on Facebook Market place and the buy/sell online groups in the area.
This takes lots of monitoring and tons of patience and plenty of Stress Away oil. Make up your mind in advance that kindness is the way and keep the overall goal in mind… Get rid of stuff!
This part of the process took one week since we were also doing final repairs and cleaning of our home for the new owners.
Everything that was left, we gave away and donated to charities. The result….. FREEDOM!
I would do it all over again given the chance.
If you are considering selling it all to achieve a dream, GO FOR IT!